During each month of StinkyLulu's Supporting Actress Sundays (aka SSASys), Lu will -- from time to time -- pause to (re)screen & offer opinage upon at least five
noteworthy but non-nominated
performances by actresses in Supporting Roles for the year under scrutiny.
[Edited to Add: The ever nifty Queering The Apparatus is preparing a poll addressing your favorite Coulda/Shoulda/Woulda performances of the last couple decades. Be sure to check it out & contribute. To that end, Nick's offering able guidance on same.]
For this month's SSASy year -- 1958 -- the coulda/shoulda/woulda Non-Noms certainly include:
Gwen Verdon in Damn Yankees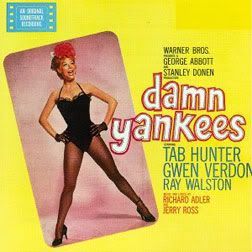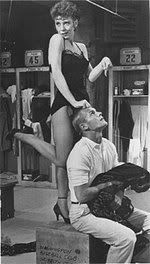 Sure. Verdon
prolly
coulda/shoulda/woulda snagged a nom for this performance in the Best Actress category, despite the simple fact that the part of Lola is truly a supporting role. Glorious, showstopping & most memorable thing about this geezer of a musical, yes, but
still
a supporting role. Indeed, it was
Gwen Verdon
's irresistable charm and incomparable dancing that secured her as the star of the
original Broadway cast
(most of whom appear in the
Hollywood version
). And despite delightful performances from
Tab Hunter
(one of the few non-B'way faces turning in a sweet, silly and sexy performance as a baseball fan who sells his soul so that his beloved team might win the pennant), veteran dame
Rae Allen
(as a tough-as-nails lady journo), &
Ray Walston
(as a
dandy of a devil
), it's Verdon's performance as the devil's minion Lola, formerly "the ugliest woman in Providence, Rhode Island," that provides both the heart and soul of this strange musical.
The character of Lola is a hustler, a scammer, a shape-shifter -- she becomes who she needs to become in order to tempt and/or entrap prey for her pimp (aka her boss aka Ray Walston aka Applegate aka The Devil). Verdon's sexy and hilarious when Lola shows up in the lockerroom all encased in black lace & topped with an enormous cherry-red bow. She's introduced as "Senorita Lolita Hernando, Miss West Indies" and Verdon's goofball accent is part Betty Boop, part Ricky Ricardo. And the number -- or, more precisely, the striptease -- that follows is hyperbolic in both its sexuality and its absurdity. Throughout, Verdon's quite funny and totally sexy, yet...somehow, Verdon's Lola is also weary, edgy and even sad. Even in this campyvampy first number. When discussing Lola in the recent documentary
Broadway: The Golden Age
, Verdon talks about how Bob Fosse encouraged her to play the subtext of the part -- the homely, chubby little girl who sold her soul to be beautiful forever -- in every moment. And its this emotional reality that illuminates Verdon's Lola. It's a
real
acting performance, one of Verdon's few to be captured fully on film. O'course the great numbers, costumes, and gams prolly kept Verdon from being seriously regarded as an actress. But from this distance, its clear: Gwen Verdon's Lola is one of the great non-nominated performances of 1958.
UP NEXT in COULDA/SHOULDA/WOULDAs for 1958
:
Tina Louise in
God's Little Acre
.
This series may likely begin regular publications on Wednesdays (replacing the fun-for-Lulu-but-apparently-for-few-others series, WednesDAY of Beauty) as "Coulda Shoulda Woulda Wednesdays."