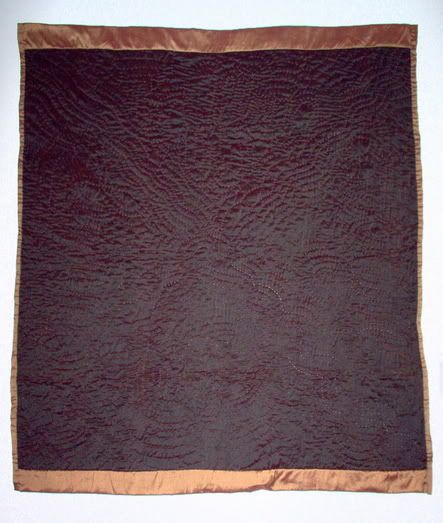 StinkyLulu's quite fond of this quilt -- the first go at a whole cloth quilting method StinkyLu's been contemplating for almost 6 years of stitchery. The pic comes from the Spring 2004 annual quilt show by the Yale Quilters when the piece bore the temporary title
327 Days
. In mid-June the quilt graduated to its intended title,
Cunning Baffling Powerful
, and was presented Tim G. as a gesture of gratitude and fellowship.
The quilt is entirely hand-constructed, using raw silk for the main panel and the binding. The back was another softer kind of silk, in a somewhat greener matte brown. The entire piece was quilted by hand, using variegated cotton thread. The dimensions of the quilt are roughly 50" by 40".
Cunning Baffling Powerful (2004)
.