As attentive readers will easily recall, one of my least favorite journalistic boilerplates is what is sometimes called the "Supporting Actress Curse" -- the spurious notion that a Supporting Actress nomination (or, heavens forbid,
win
) for an unknown or emerging actress threatens to doom a career. I won't dispute Oscar's notoriously mixed blessings (
so stop sending those hate emails, Cuba!
), but I do think tacking any "Oscar curse" onto supporting actressness smacks of a (possibly misogynist) disregard for the realities of the relative lack of decent roles for formidable women on screen. As such I remain stalwart in my resistance any attempts to "marry" my beloved Supporting Actresses with this specious claim, and I am pleased to enlist as support for my counterargument this week's "Best Supporting Actress" winner...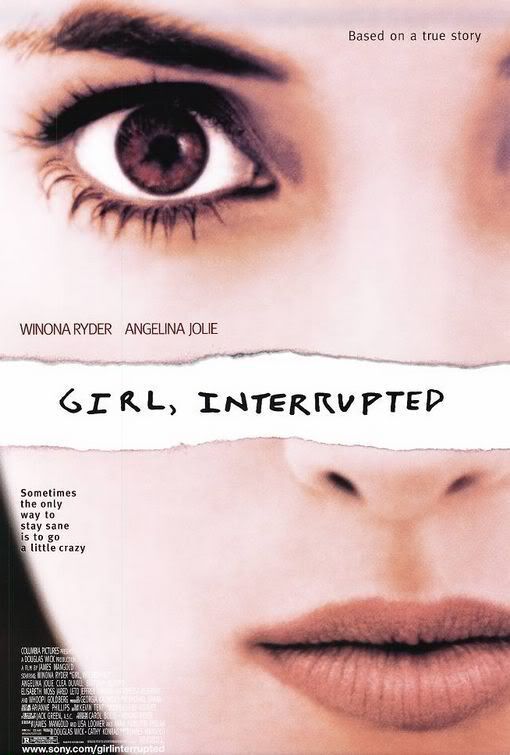 ...Angelina Jolie in Girl, Interrupted
(1999)
approximately 36 minutes and 18 seconds
35 scenes
roughly 29% of film's total running time
Angelina Jolie plays Lisa Rowe, the most popular sociopath at Claymoore Hospital, a private psychiatric facility in the suburbs of Boston in the later 1960s.
Jolie's Lisa first makes her formidable presence felt when she returns to Claymoore after a couple weeks "out." (We come to learn that such forays are not uncommon for Lisa, who has been hospitalized at Claymoore for much of the previous decade.) Everyone at the facility - staff and residents like - turns out to welcome Lisa "home," everyone except Susanna (Winona Ryder in what is certainly one of her most effective performances) who's both new to Claymoore and occupying the bed previously occupied by Lisa's best friend.
So begins the courtship of Lisa and Susanna, a mildly eroticized friendship that provides the core emotional dynamic for the film.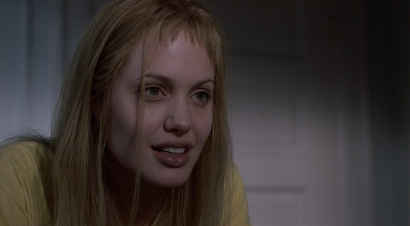 Jolie's Lisa serves as the "alpha psycho" for a motley crew of young woman who share little beyond "girlhoods interrupted" (by childhood trauma, sexual abuse, eating disorders, compulsive behavior, pathologized queerness and the like). Performed with intelligence, humor and humanity by an excellent female ensemble, most of the young female characters
are
their diagnosis: the lesbian (
Jillian Armenante
), the anorexic (the f'n amazing
Angela Bettis
), the compulsive fabulist (
Clea Duvall
), the childlike burn victim (
Elisabeth Moss
). In the aggregate, these young women pose what is perhaps the film's most direct -- and not at all original -- challenge: in a society gone mad, is being crazy the only "sane" response? In contradistinction to the rest of their cohort, however, Jolie's Lisa and Ryder's Susanna are not "legibly" ill. Sure, Lisa's a little wild, and Susanna's a touch depressed but...are they really sick? This is the mystery that
Girl, Interrupted
undertakes to ostensibly resolve, with Jolie's Lisa as the prime specimen put up for dissection.
Is Lisa a righteous rebel?
An irreverent truth-teller?
A thrillseeking rabblerouser?
Or is she an unrepentant sociopath, as she has been diagnosed?
Ryder's Susanna is utterly captivated by the mystery of Jolie's Lisa, falling a little bit in love with this seemingly fearless young woman apparently capable of anything.
The two hit the road, late one night, on their way to become living Disney princesses at the newly constructed theme park in Florida, when they pause for a pitstop at a recently "recovered" friend from Claymoore who now has her own apartment. Once outside the relative security of Claymoore, Ryder's Susanna begins to doubt the trustworthiness of her friend, especially when Jolie's Lisa taunts and torments the pathetically vulnerable Daisy (Brittany Murphy in a decent but unsubtle performance), long one of Lisa's favorite targets.
Lisa's torment bears disastrous consequences and the episode abruptly ends both the anticipated roadtrip as well as, possibly, the friendship between Lisa and Susanna.
For her part, Angelina Jolie crafts a characterization of Lisa that is appropriately entrancing and terrifying. Jolie is smart, here, to not worry too much about why Lisa does what she does but to instead emphasize the intensity of feelings that she instigates for herself an in others.
In a numbed out psych ward, Jolie's Lisa provides a vivid breath of energy and life and the film and actress are both adept at capturing how everything that's so exciting about Lisa inside the institutional haven of Claymoore transforms into something toxic and scary outside of it. Likewise, the role and the film require Jolie's Lisa to hit a particular range of captivating attitudes. As such, it can be difficult to not see in every one of them the makings of what have, in the near decade since this film's original release, become a repertoire of Angelina Jolie clichés. She's never bad, but she's not always subtle or deep -- and, with familiarity, some of these affects bear the impression of affectation.
That said, Jolie's characteristically palpable emotional clarity provides propels this film in memorable ways and it's to her credit that Ryder -- an actress who's lapsed from favor as quickly as Jolie has gained it -- is able to steer the film so ably with her lucid, solid performance as Susanna.
Angelina Jolie's trophy snagging turn as Lisa probably does not represent 1999's best actressing at the edges. Nor is this performance on a par with Jolie's more excellent recent work. But Jolie's work in
Girl, Interrupted
remains fascinating, elemental and adept -- and stands as an exemplary exception to any supposed "rule" that attention from Oscar early in one's career is simply a curse.