Who'da thunk!
Took this little quizlet:
Which Project Runway 2 Designer Are You?
(Seems Lu missed the link some time ago on Blogging Project Runway but caught it just today, thanks to the amazing Modern Fabulosity.)
Turns out StinkyLu & Daniel Vosovic are a match made!!!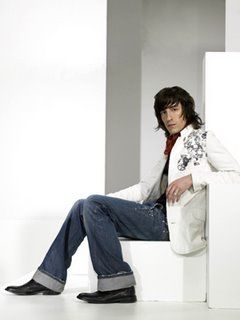 Awww....swoon.
(Seems that Inez is right after all -- StinkyLu really does have a thing for gangly skinny boys -- preferably with great style, a long neck & a distinctive schnozz.
Hi MrStinky!)
You are Daniel V.:

You're young, fresh and new. You've got a quiet sensibility and know how to listen to your client. People like your modern style and edge. You listen well and execute perfectly. You're going to go as far as you want. It doesn't hurt that you look like you should be fronting a band
.
And while Lu's on the subject, it's worth noting that
STINKYLULU
LOVES
PROJECT RUNWAY!!!!
BEST TEEVEE SHOW EVAH! OMG!!!
Whew -- good to get that out of one's system...
(pause)
Well, not quite OUT.

WOOHOO! (thanks to The Scarlett.)
But Is StinkyLu the only one in the blogospere who approves of this "final four"?