In some ways, screening Alan Parker's
Mississippi Burning
upon its original release marked the last gasp of my moviegoing innocence. 'Twas a big Oscar baity picture, addressing
a historical topic
for which I had recently discovered a true passion (cultural history of race in U.S.), and directed by the director of
my favorite movie ever
. But boy howdy what a stinker. Walking out of that theatre, I still remember trying to reconcile my high hopes for Hollywood with my roiling disgust at how much the film had gotten so cruelly wrong. 'Twas a crisis of faith, actually. See, I was still in the habit of meticulously adjusting my opinions to match a picture's critical praise, obliging myself to live up to the Hollywood hype. With
Mississippi Burning
, though, I was forever done with such nonsense and ready to move off the Hollywood grid entirely. Still, though, I felt I had to retrieve something redemptive from the experience I had just suffered. And so 'tis little surprise that I gratefully claimed...
...Frances McDormand in

Mississippi Burning
(1988).
approximately 14 minutes and 3 seconds
15 scenes
roughly 11% of film's total running time
Frances McDormand plays Mrs. Pell, the wife of a sheriff's deputy in a hick Mississippi town. Mr. Pell (Brad Dourif, in one of the few effective male performances in the film) is a dimwit racist bully, who's too busy beating down black folk and setting fire to their shackalack homes to notice that (a) his wife is bored in their marriage and (b) that she loathes his every racist step.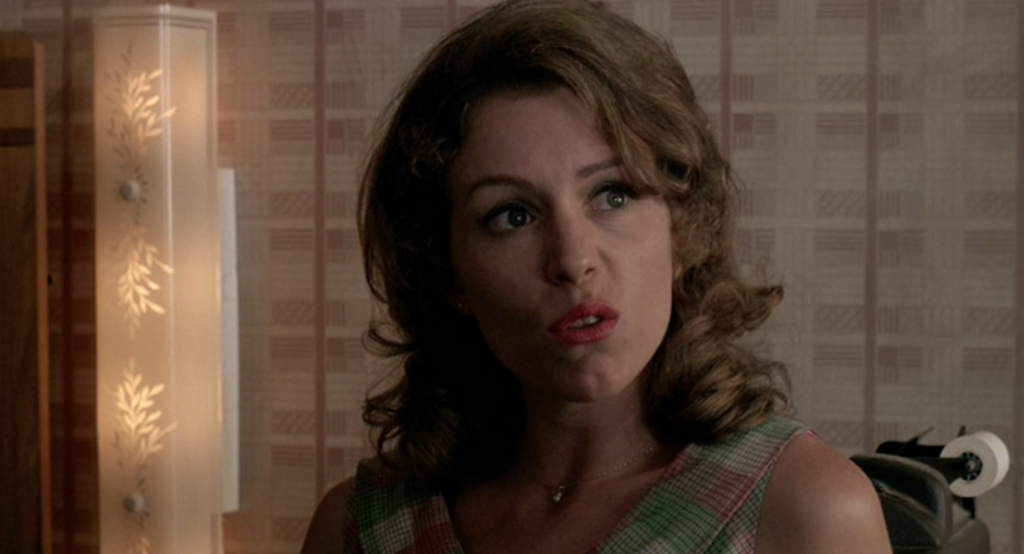 McDormand's Mrs. Pell (we never learn her first name) is an extraordinary creation. Forget about spinning a hay into gold, sewing a silk purse from a sow's ear, turning water into wine...
THIS
performance is a supporting actress miracle.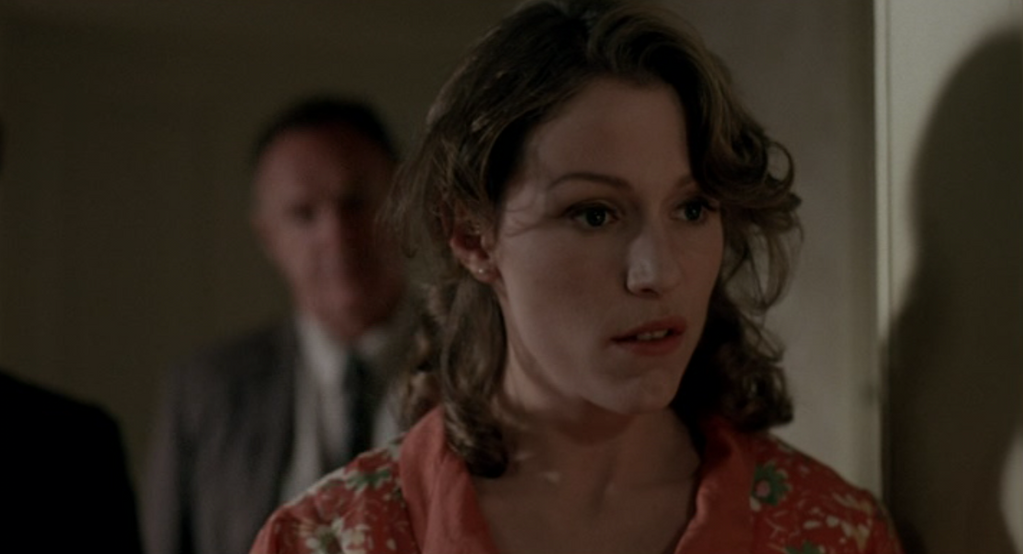 The role is an idiotic Hollywood fantasy: the "simple Southern white woman" who knows well the racist logic of her community's ways, who's mindful of the violent predisposition of her male relations, and who does a teensy little thing that (in the logic of the film) becomes an extraordinary act (which also instigates the resolution of a lumbering plot). We've seen this character's flip side in Smackdowns before --
remember Cara Williams' "The Woman" in 1958?
-- same character-slash-plotdevice, different moral register.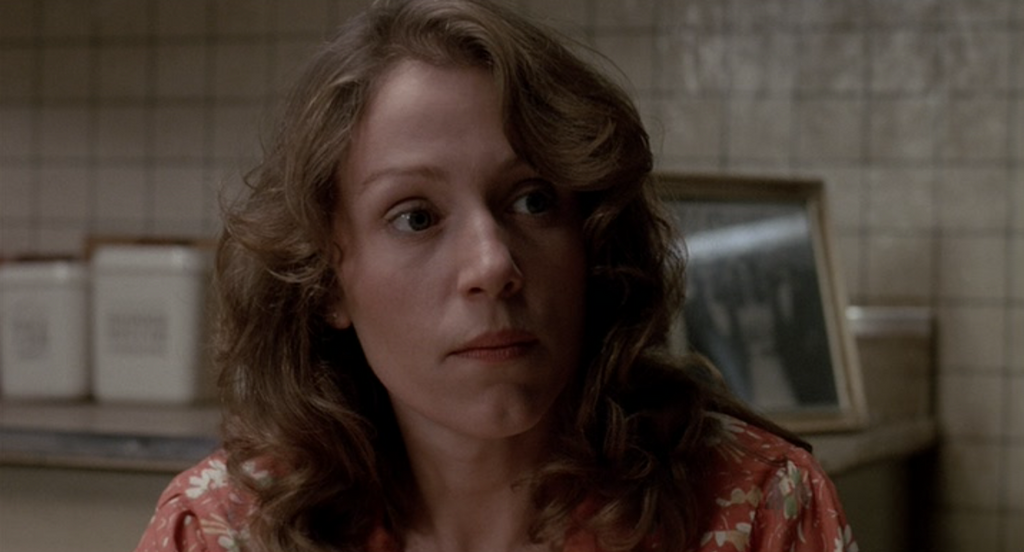 But somehow McDormand survives her miscasting (I say switch Park Overall into this part) in this lamely constructed role (she always just happens to be
there
), rising above the generally stupid dialogue (postcards from Des Moines?! wha?!) and the incomprensibly oblique romance between McDormand's Mrs. Pell and Hackman's freakishly implausible Rupert (they have about as much chemistry as two headless department store mannequins).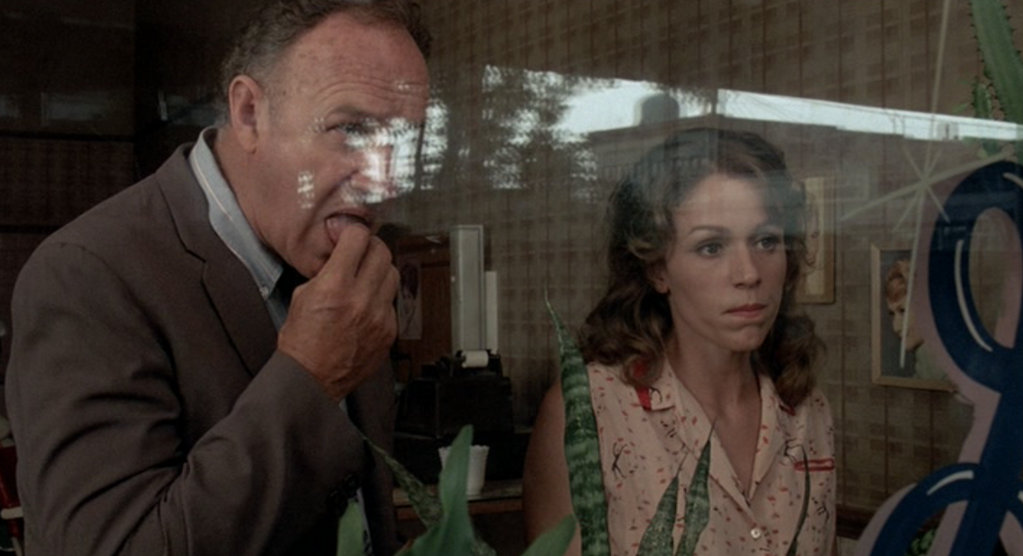 Amidst the crashing embers of Parker's film, McDormand's Mrs. Pell emerges a living, breathing characterization -- the closest thing there is to a "person" in the whole movie. What's more, McDormand seems to accomplish this almost independently, with little legible support from the surrounding apparatus of white machismo that animates this film.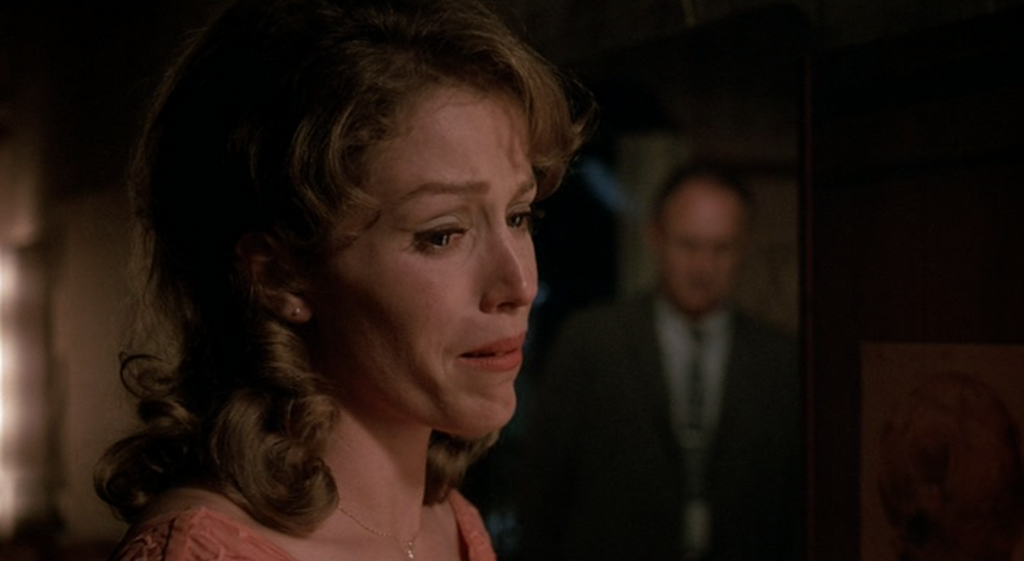 McDormand's accomplishment is not so much that she's especially good in this part. Rather, McDormand's achievement is just how good she is when given so little to do. The movie's a simple-minded melodrama with stick puppet characters and a big fire budget (did Parker have to take the title so literally?). But somehow McDormand finds a strand of emotional reality and holds onto it for dear life. And, in so doing, McDormand's Mrs. Pell becomes as a life-preserver to which a desperate audience might cling while trying to survive this awful awful awful movie.
It's more an extraordinary accomplishment than a great performance, but hey -- Franny's actressing at the edges here definitely proved a beacon of just how formidable a screen performer McDormand would soon become.