It's been somehow easy for StinkyLulu to forget that Stephen Spielberg's controversial film version of the
The Color Purple
featured the film debuts two of the most formidably iconic African American performers of the last quarter century: Whoopi Goldberg and Oprah Winfrey. In the leading role of Celie, Whoopi Goldberg offers an exuberantly simple performance, a quiet bloom of naivete and hurt and tenderness. Goldberg's performance is raw and mostly silent, unimpaired by her later comedic shticks and vocal tics. Goldberg's Celie blazes with human emotion, a carefully crafted portrait of an abandoned child staggering and stumbling on her way to confident womanhood. Goldberg's work in the picture provides a startling reminder a fleeting moment when Goldberg's gifts as an actress were unfettered by the ossifying effects of her celebrity persona. The same can -- even more emphatically -- be said for...
Based on Alice Walker's acclaimed novel,
The Color Purple
tells the story of Celie, a variously abused young African American woman living in the American South at the beginning of the 20th century. As she works and works, Celie's reminded at every turn, and by everyone, that she's ugly and black and poor and a woman and thus worth nothing. With a grand flourish, the film charts Celie's slow and steady journey toward a conscious, empowered womanhood and Celie quietly emerges as the de facto matriarch of a family of women. Most of these women dismissed or disregarded Miss Celie upon their first acquaintance, but the beauty of the story flows from how Miss Celie nonetheless learns from each of them a lesson of
womanist
strength.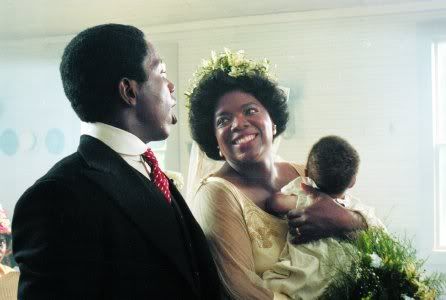 One of Celie's most fundamental lessons comes from Sofia (Oprah Winfrey). Upon their first encounter, Goldberg's Celie and Oprah Winfrey's Sofia regard one another with a kind of awe. Celie's amazed at Sofia's bigness, in girth and spirit and voice, while Sofia's stunned at Celie's hangdog humility. In these early scenes, Winfrey -- a novice actor but experienced broadcaster -- conveys Sofia's youthful confidence with zeal -- standing up to Mister, marrying Harpo, taking Celie under her gossipy, bossy wing. Winfrey's Sofia quickly appoints herself Celie's big sister, and Celie...well, she just does what folks tell her to do. So the betrayal when Celie encourages Harpo to beat Sofia to keep her in line? Well. Winfrey's Sofia lashes back, reminding Celie that not even love is reason to accept being beaten by a man.
Winfrey tears through this speech with charismatic power. With ease, Winfrey establishes Sofia as a formidable, seemingly indomitable woman, not easily reckoned with nor easily swayed. All of which provides essential groundwork for Sofia's shattering fall. When she hauls off and decks a white man -- the mayor no less -- Sofia is literally beaten back to earth by the stark realities of Jim Crow racism and patriarchal authority.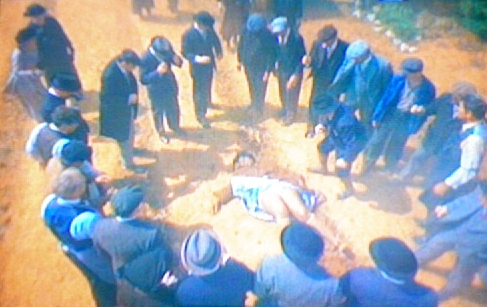 Imprisoned, hobbled and disfigured for her uppity-ness, Winfrey's Sofia is released from jail...to an extended torture program administered by Miss Millie (a perfectly delusional and brittle and mean Dana Ivey).
Winfrey's performance as Sofia is just really really good. The very skills that underwrite her extraordinary success as a television personality -- her enormous charisma and unusual capacity to "cue" empathy --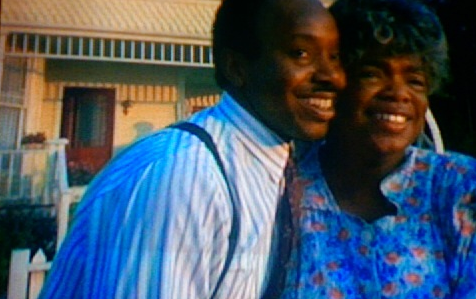 serve the character of Sofia in surprising and effective ways. And if some of Winfrey's speeches tend toward the declamatory -- escalating scales of emotional testimony -- Oprah sells it. Just sells it. Every time. Indeed, Winfrey sells Sofia's story almost too well, with the emotional impact wrought by Winfrey's Sofia arguably tipping the balance away from Celie's true guiding star, Shug (Margaret Avery)...but you'll just have to hold your purple blossoms to hear more about Miss Avery...
Tune in this Saturday for StinkyLulu's final profile for 1985 as well as the 1985 Smackdown, a trés intime affaire, on Sunday...