There are some performances that I find so compelling, yet so confounding, that I must resort to a default strategy or two as a seek to make sense of all that I'm thinking and feeling. I say this, lovely reader, as I prepare to go all academic on your ass. Because, alas, 'twas the only way I could find my way through the fascinating work of...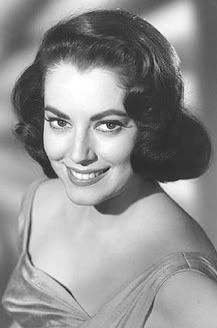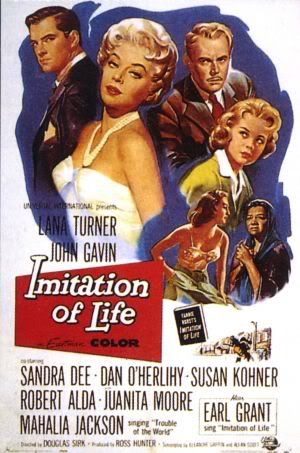 ...Susan Kohner in The Imitation of Life
(1959)
approximately 21 minutes and 32 seconds
19 scenes
roughly 17% of film's total running time
Susan Kohner plays Sarah Jane Johnson, a troubled teen whose shortsighted selfishness stirs all kinds of pain for her doting mother (
Juanita Moore in a generous, warm performance
).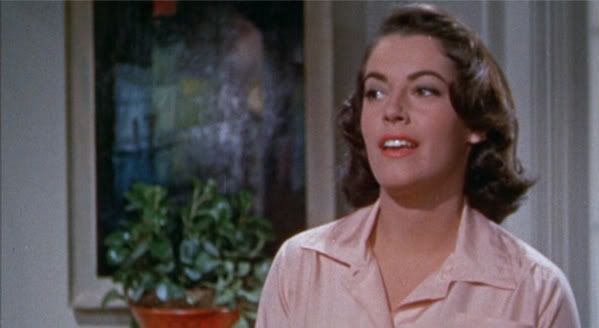 Kohner's Sarah Jane is, arguably, the most essential character within the narrative of
Imitation of Life
. Her character's struggle -- as a woman struggling the reconcile the disparity between her aspirations and her obligations -- runs parallel to the struggles experienced by most (if not all) of the other principal characters in the film. However, the particularities of Sarah Jane's conflict -- she's a fair-skinned African American woman who aspires to be white and resents her mother for being (and making her) black -- stands as the most conspicuous iteration of the film's defining "aspiration versus obligation" emotional thematic.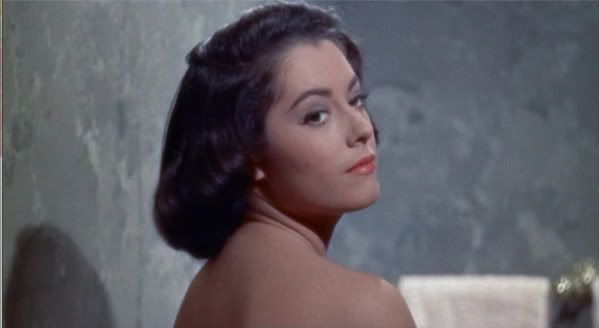 Indeed, director Douglas Sirk utilizes Sarah Jane's narrative to exploit (and not necessarily in a bad way) midcentury racial anxieties about "passing" (or, more precisely,
amalgamation
) to both amplify
Imitation of Life
's conventional mother-daughter dramas and also to transform what are essentially interpersonal/intergenerational tensions into the stuff of socially significant melodrama.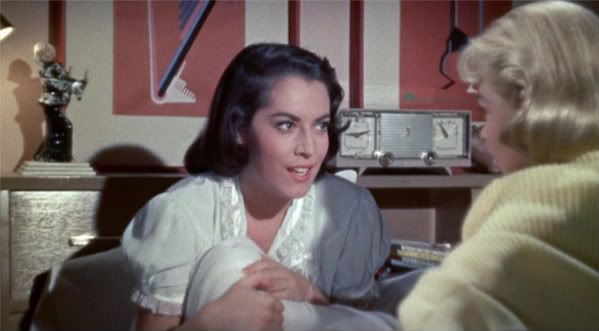 And where Sarah Jane's narrative compels the dramatic action of the piece, Susan Kohner's performance becomes the film's most compelling spectacle. Is she -- to quote another racial melodrama of the era -- "white enough to pass"? Or is Kohner's "passing performance" a spectacular failure because of the actress's lack of blackness.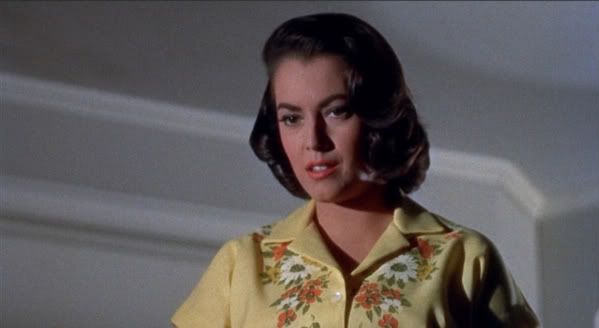 Here, Kohner's casting in the role becomes a crucial coordinate of the performance itself. The daughter of Mexican actress Lupita Tovar and a Czech/Jewish film producer, Kohner's ethnic heritage certainly locates her at the outer limits of midcentury U.S. whiteness. (And from a producerly standpoint, casting the ambiguously ethnic but certainly non-African Kohner certainly dodged the "problem" of depicting Sarah Jane having illicit affairs with white men like Tab Hunter.)
Yet the narrative of
Imitation of Life
insists that, through Kohner's Sarah Jane, we dabble in the spectacular "pleasures" of passing performances. The film asks us to believe both that Kohner's Sarah Jane IS black so that we also become anxious when she's perceived as "not" black. Indeed, the film's premise invites us to make the same casual mistake that Lana Turner's Lora makes in the first scene -- to misrecognize Sarah Jane as just another pretty white girl -- and to do so at least twice (once when the character's portrayed by as a child by Karin Dicker, and again about half-way way through when Kohner's introduced). For US viewers in the first, oh, seven or eight decades of the 20th century, such an act of racial misrecognition carried a scandalous taint and director Sirk understands this peculiar (and peculiarly American) obsession with maintaining the legibility of racial distinction. In short, the character of Sarah Jane embodies the reality of racial mixture in the United States and looking at her presents a tacitly scandalous reminder of the fact of black/white "
miscegenation
."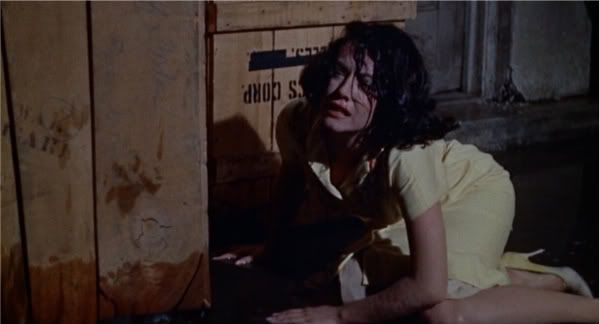 Contemporary "post-racial" viewers, however, are less inclined to project such demands of racial purity upon screen bodies. (Indeed, contemporary audiences seem untroubled when cinematic narratives invite them to "not see" the blackness of such contemporary mixed-race performers as Wentworth Miller, Jennifer Beals or Rashida Jones.) Instead, contemporary audiences appear less concerned with "blood quantum" (the old "one drop of black blood" commonsense still current in 1959) and more invested in racial authenticity. As a cinematic device in contemporary film, blackness is not as much a trope of
racial typology
as it is a signal of racial identity.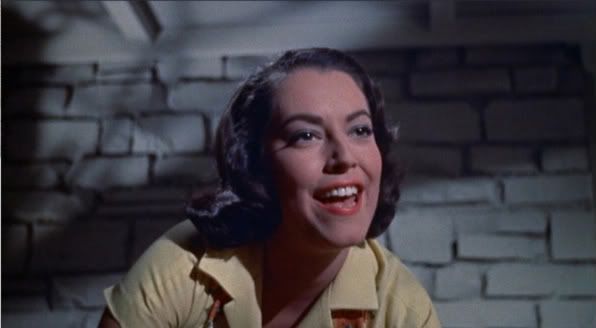 Regular StinkyLulu readers, however, by this point or long before, might well ask: what, if anything, does all this racial theory stuff have to do with Susan Kohner's performance? Well, lovely reader, I'd suggest that -- to get to an honest assessment of Kohner's work as an actress in this role -- we have to parse through this history of competing and contradictory cinematic visions of race because they come to collision atop Kohner's performance.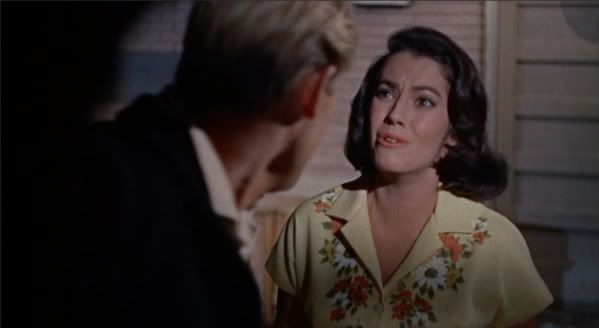 See, for years, I've been hearing Kohner's performance mocked by smart cinemaphiles for all the ways it fails at being black enough. In this view, Kohner's own non-blackness becomes only the first of an accumulation of Kohner's failures in the role. (She doesn't look/sound/feel black at all, or like her mother at all, plus she's annoying and she can't dance.) It's nearly impossible to argue in support of Kohner's performance within such a framework, for Kohner's performance reveals nearly nothing about the historical phenomenon of "passing" in African American history and experience.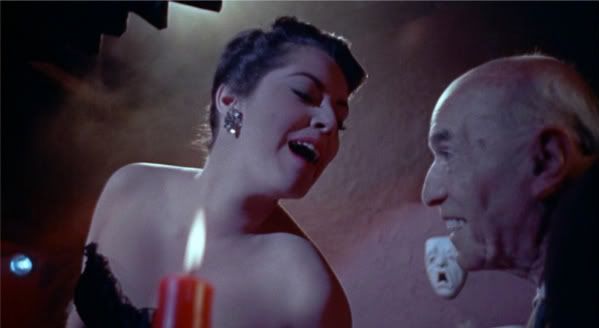 That said, I would submit that Susan Kohner is not really playing a black character in this film but is instead portraying a cinematic concoction devised to complicate assumptions of essential racial difference as it also idealizes notions of human similiarity.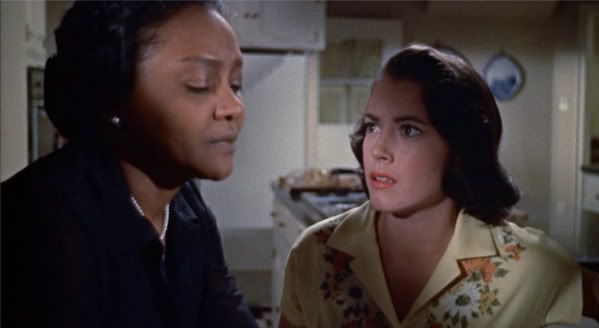 Indeed, if we do what is nearly impossible and put the "racial conceit" of
Imitation of Life
aside for just a moment, we can see that Susan Kohner's accomplishment in the role of Sarah Jane comes from how vividly she expresses the emotional complexities of denying one's familial bonds, responsibilities and histories in the single-minded pursuit of cultural privilege. Considered through such a non-racial lens, Susan Kohner delivers a pungent portrait of a teenager who wants to freed from the shackles of her family's history so that she might be exactly and only who she wants to be.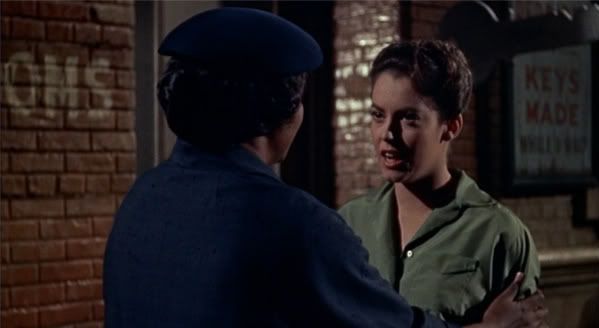 The selfishness of Kohner's Sarah Jane stands in dynamic tension with the selflessness of Moore's Annie. The stark contrast fortifies an archetypal mother-daughter conflict, one that both actresses understand and that the film chooses to root in a transcendant vision of mother love.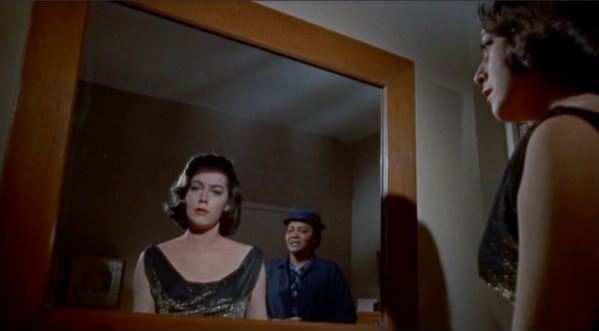 Kohner's Sarah Jane spends most of the film denying and defying her mother, doing and saying awful things to the saintly Annie. Yet it's in the moments when Kohner's Sarah Jane recognizes her mother's pain and sacrifice that her characterization really comes alive. Moore's Annie does the hard work of building the emotional foundation of this relationship, but it's Kohner's Sarah Jane who nails the emotional force of the pair's collaboration. For it's Kohner who lets us know that Sarah Jane understands how deeply she's hurting her mother and yet she goes ahead and hurts her anyway.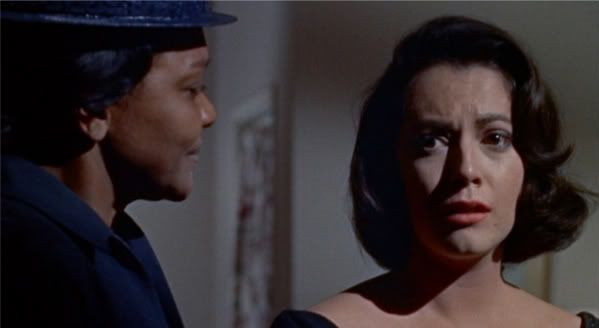 I'd be inclined to endorse Kohner's nomination solely for the moment her Sarah Jane flinches when Moore's Annie calls her "Miss Linda." It's a killer moment, showing that Kohner understands the emotional dimensions of the relationship (even if/as she "fails" to amplify the cultural dimensions of the narrative). And it's a moment in which
Imitation of Life
's lush style, story and actressing converge into something marvelous.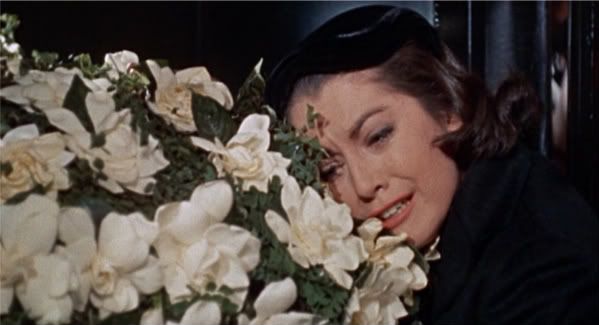 More than most nominated performances, Susan Kohner's performance as Sarah Jane challenges our assumptions, reminding us of the remoteness of the recent past. And whatever social/cultural/racial lenses you happen to wearing as you view this literally extraordinary bit of actressing, be certain to note how thoroughly Susan Kohner nails the emotional infrastructure of this devious daughter's relationship to her doting mother.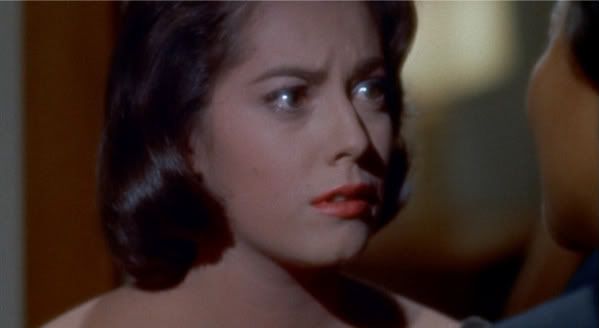 Susan Kohner's may not be a perfect performance; it may not be a complete performance. But Susan Kohner's performance stands as a formidable accomplishment within one of the most complex roles in midcentury cinema.