Talk of "Oscar bait" tends to swirl around those Supporting Roles that contain a few key ingredients. First, a "baity" role is usually pretty indispensable to the storyline while also secondary within it. Second, the "baity" role usually has a showstopping quality, as either foil or scenestealer to the central character. Third, such a "baity" role also has to have at least one bravura turn, the cinematic equivalent of an aria in which the whole film stops to watch the Supporting player seize center frame. (When an actual song is not an option, a mad scene is usually your best bet.) Both JHud and Angelina snagged trophies for just such Supporting "bait" performances, and it remains a surprise to some that a similar honor did not go to...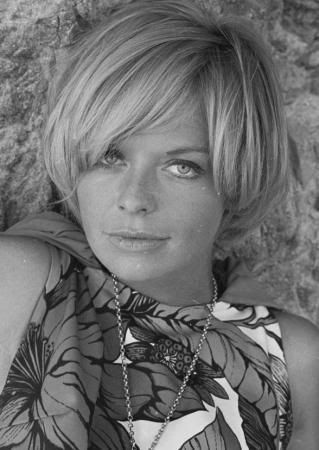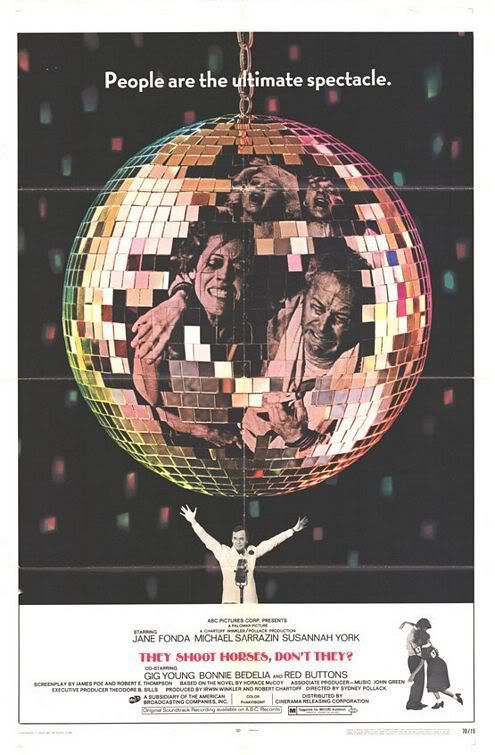 ...Susannah York in They Shoot Horses, Don't They?

(1969)
approximately 21 minutes and 25 seconds
32 scenes
roughly 18% of film's total running time
Susannah York plays Alice LeBlanc, a glamorously aspiring actress among the many seeking the realization of their dreams at a dance marathon competition in 1930s Los Angeles.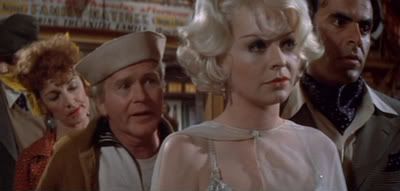 York's Alice presents herself as a serious actress -- even proffering a monologue from Saint Joan at the merest provocation -- but her platinum blonde tresses and silk satin sheath dresses (not to mention her swarthy Latin-ish lothario of a dance partner) are as suggestive of the young woman's desperation as they are of her actual star potential.
York's Alice immediately stands out among her competitors, a seemingly radiant star among the common folk.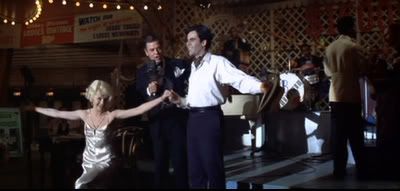 Alice's glamorous persona also marks her for a special variety of humiliation, and York scores her characterization of Alice deftly in what are to become the first stages in her ultimate devastation. First, when Alice's second dress is stolen along with her makeup from her suitcase, York's Alice explodes from the gate of her carefully disciplined persona.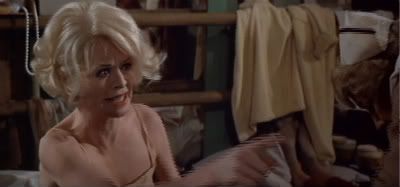 In this scene, York dramatically cues not only that Alice is a teensy bit nutso but also that she's an unusually taut wire, capable of snapping at the slightest moment. York's work in this scene -- establishing the precise ways in which Alice's facade might crumble -- serves the film in subtle but indispensable ways. In short, once we see that Alice is capable of disintegrating in this way, we know it might happen again and Alice's mere presence on the screen thereafter amplifies the dreadful tension upon which the film's grueling narrative depends.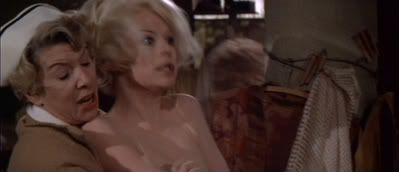 Yet, even as we become ever more attuned to Alice's capacity to lose it at any moment, York's Alice remains naive to what's in store for her as the marathon wears on.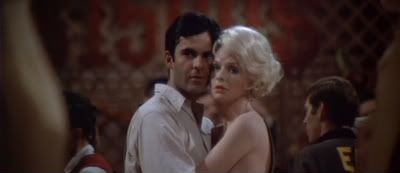 Throughout, the film utilizes York's Alice to underscore the cynical (and profitable) pleasures to be derived from the dance marathon as a spectacle of human suffering. Seeing York's Alice stripped of her heavenly glamor is but the first step in the character's long descent, Alice standing as the film's symbolic metaphor for the distance between the competitors's dreams and their realities. And nowhere is the spectacle of human suffering more vividly on display than in "The Derby," a ten-minute speed-walking race in which the couples race for the finish line to avoid elimination as one of the three last-place finishing couples.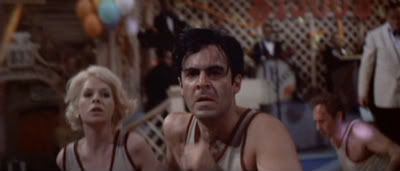 In "The Derby," Alice's vestigial glamor melts away and she's left wilted but standing, her fabricated Hollywood persona no longer maintaining the illusion that Alice's aspiration is distinctly different from the other competitors' desperation.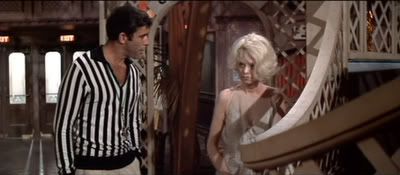 Director Sidney Pollock uses York's performance as Alice as a kind of narrative foil. York's work -- like that of Red Buttons's in the role of Sailor -- proves useful as a kind of counterpoint for the narrative's central character of Gloria (Jane Fonda, basically good if vocally limited). Both Fonda's Gloria and York's Alice are aspiring actresses, shut out of the Hollywood machine and nearing the end of their rope. Yet, where York's Alice aspires to be a movie star, Fonda's Gloria is only trying to get work as an "atmosphere" player, or an extra. Alice wants to live the Hollywood dream; Gloria wants to eat in a company town.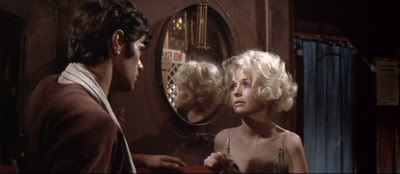 Yet for both women -- the leading lady and the extra -- the wide-eyed, masculine simplicity of the drifter Robert (Michael Sarrazin, a cipher-like actor portraying the cipher of a role) seems to hold redemptive promise.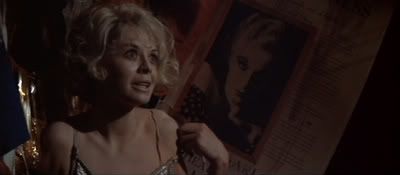 In what is one of the most curious turns of the narrative, York's Alice determines to seduce Robert, thus causing a rift between he and his prickly partner Gloria, impelling Gloria to dance first with Alice's mercenary partner and then with the "mature" Sailor (Red Buttons delivering a vivid performance) as the second, fateful "Derby" round begins.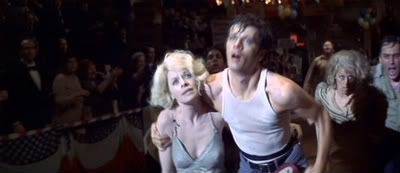 When, at Derby's end, Fonda's Gloria carries Sailor's corpse (he suffered an apparent heart attack during the race's final minute, something Gloria -- in her desperate quest
not
to
lose
-- seems not to have noticed), Fonda's Gloria lays Sailor's lifeless body upon Alice's lap, thus instantiating what proves to be the final episode in Alice's devastation.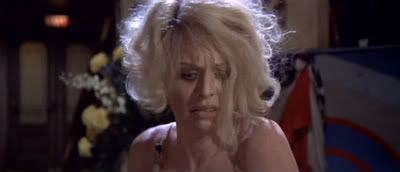 In the sequence that follows, York's Alice -- having realized that Sailor's dead body was lain across her single remaining dress -- experiences something akin to a psychotic break.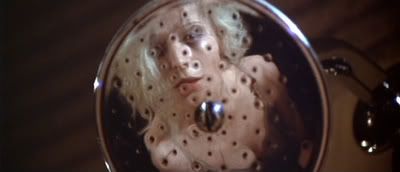 She begins to shower, while fully clothed, distractedly scrubbing a bar of soap across the surface of her gown.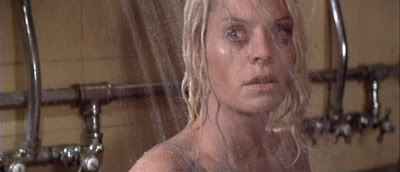 At this moment, York inaugurates Alice's final descent into complete madness, her frayed grip on sanity snapping possibly forever. Here, too, Alice's character arc is poised in stark, productive distinction with the similarly drastic demise of Fonda's Gloria. However, Pollack utilizes the distinction to demonstrate that -- even though both women were pressed to their limit by the stresses of the competition -- Fonda's Gloria retained her sanity even as those around her (first, Allyn Ann McLerie's Shirl and, then, Susannah York's Alice) lost hold of theirs.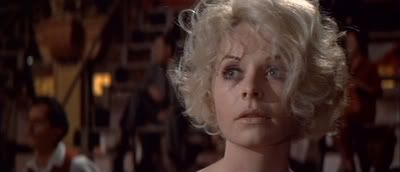 York does two really amazing things with the role of Alice. First, York maintains Alice's ominous fragility with an intriguing intensity: from early on, we're sure she's gonna snap at some point and we're always checking to see if now's gonna be the moment. Second, York allows Alice to be an actual person even though the film's showiest character is scripted almost entirely as a counterpoint/foil for Fonda's character arc. I love that York gives Alice a fleeting stammer, a verbal tic that manifests only when Alice is caught "out" of her contrived character/persona. Moreover, in what is to my mind the actress's most formidable accomplishment in the role, York's Alice is both haunting and heartbreaking but never especially likable. It would have been much easier to make Alice a sweet victim but, in ways I can't put my finger on, York doesn't do that, opting instead to craft Alice as a fascinating, flawed mess caught in the same web of selfish desperation as everyone else. Hers is a strange, surprising, essential performance within a brutally cynical film.